Praktica B-System, cameras with automatic and manual speed shutter control
Production period: December 1979 to December 1988
Number of Models: 7
Number of produced items: 494,391
responsible constructor: Werner Hahn, Rolf Noack

The era of the Practica's who were produced with compact design starts with the Praktica B 200 .
These camera had an automatic speed range between 40s and 1/1000 (stepplessly).
The exposure control was a centre weighted TTL light metering at full aperture by electronic diaphragm value transfer using a Gallium-Arsenide-Phosphide photo-diode. The Film speed range was between 12 and 3200 ASA.
For creative photography a manual setting of shutter speed was possible in a range of 1sec to 1/1000/sec (geometrically). The TTL measurement was also available.
The B 200 was underlay only minimal changes. Some special variants were produced for the English and Dutch market.
| | |
| --- | --- |
| Hummel-No | camera-name |
| 218 | Praktica B 200 |
| 219 | Praktica B 200 - 1st variation |
| 220 | Praktica BCX |
| 221 | Praktica BC 1 |
| 222 | Praktica BC 1 - 1st variation |
| 223 | Jenaflex AM 1 |
| 224 | Praktica BC 3 |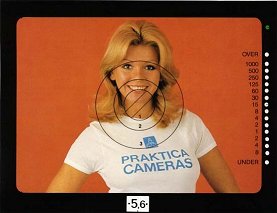 focussing screen Praktica BCX